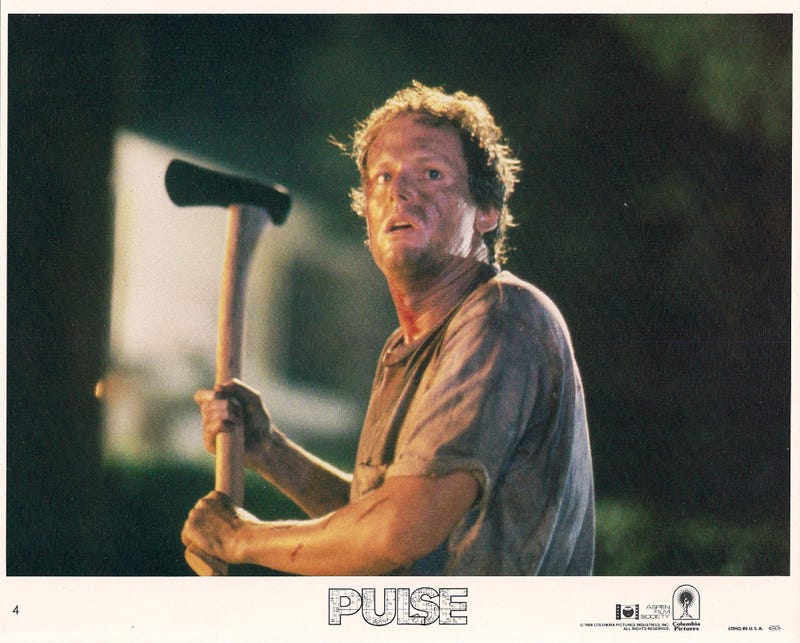 Emerging in a decade celebrated for its sci-fi classics, Pulse is not the greatest movie of the 1980s, but it is quite possibly the most unappreciated and underrated.
Labeled "the ultimate shocker" on its poster, Pulse centers on innocents in classic American suburbia battling what is seemingly an evil electrical current. The story focuses on a young boy, David (Joey Lawrence), who goes to spend the summer with his father (Cliff De Young) and his new wife (Roxanne Hart) in California. Unfortunately, also moving into his dad's place is the aforementioned current, which "speaks" to anything electronic that can hear its "voice." What follows is 90 minutes of a kid trapped by his circumstances at the mercy of a technological terror.
Pulse is a techno-fear reworking of the classic haunted house theme that is as smart as it is scary. Making his feature debut, writer-director Paul Golding treats the audience as intelligent as he treats his science fiction. No explanation is given for the electricity gone awry. Is it of alien origin? Man made? Is it really even good or bad? Golding is intentionally coy with the details, offering only a lightning bolt hitting a power station in the film's opening seconds as the impetus and letting the audience decide.
It is a deadly serious treatment of techno-paranoia that offers none of the child heroics seen in '80s classics like E.T. The Extra-Terrestrial. Yes, David does some problem-solving, but mostly he is at the mercy of his situation and this electrical current hell bent on zapping anyone in its path. Impressively, the film perfectly pulls off the precarious balancing act between plausible and unrealistic.
Over at Video Junkie, there is an in depth examination of the film and its path to the silver screen. A native of Troy, New York, Golding grew up reading Isaac Asimov with dreams of becoming a theoretical physicist. All of that changed when he discovered underground film making (via Ray Rice's experimental Queen of Sheba Meets the Atom Man) and soon he found himself a student in the University of Southern California's film department (making several student films with classmate George Lucas). Post-graduation Golding worked as an editor on Medium Cool and began writing screenplays with partner (and future Red Shoe Diaries creator) Zalman King.
Pulse also came to Golding during this time in the '70s. The idea for the story came from comment made by friend Caleb Deschanel (yes, father of Emily and Zooey) after spending a night in Golding's tract home.
"I remember one morning at breakfast he came in and said, 'You know, it's so weird. Last night I was just listening to the little sounds the house makes – the furnace turning on and off and the flexing of the pipes – it was like the house was alive and it was taking care of me.' He wasn't used to central heating. That idea kind of stuck with me for a while and I started thinking about the dark side of the house taking care of you and it kind of grew out of that."
The script floated around Hollywood for several years, optioned nearly a dozen times. It wasn't until the 1980s that Golding was able to set it up at Columbia Pictures via William McEuen's Aspen Film Society. Golding gets the most out of his $6 million dollar budget, including excellent cinematography, a haunting score, and believable performances. The visuals effects are restrained, but highly effective. The highlight is some gorgeous macro photography by Oxford Scientific Films that gets deep into the guts of regular household electronics, making it looks like an alien landscape.
The Columbia brass was suitably impressed at a screening in 1987 and, according to Golding, had big plans for the film the following summer.
"David Picker, the President of Columbia the time, was sitting a couple of seats over," he reveals. "At the end of the film David came up to me and said, 'Feel my hands.' It was the weirdest thing anyone had ever said to me. He said, 'Feel my hands, my palms are sweating.' He said, 'I love this film, this is a great film. We're going to do this and that. We're going to do a 70 mm blowup. We'll release it separately in New York and L.A. to get word of mouth [going] and this will be our big film this summer.'"
Unfortunately, just a short time after the successful screening, the Columbia heads who loved the film so much found themselves out of a job. Former Paramount exec Dawn Steel was tapped as the replacement and, in fine Hollywood tradition, disowned all of the films her predecessor had a hand in shaping (other films crushed in this regime change included Spike Lee's School Daze and Terry Gilliam's The Adventures of Baron Munchausen). Pulse went from being a big summer theatrical release to getting dumped in less than 50 theaters. In the end, the film received a contractually obligated theatrical release in the Southern market in Oklahoma and Texas in March 1988.
Would Pulse have been the top grossing film of 1988? No. But had the movie been given a proper life, it could easily be one of those fondly remembered flicks when it comes to '80s nostalgia and championed among those who enjoy serious sci-fi cinema. A worldwide cult following due to subsequent VHS releases and umpteenth cable airings point to the fact that this could have been the case.